An IELTS test taker from Singapore (thanks, K!) remembered the following Speaking questions:
Speaking test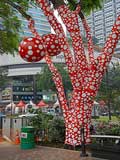 Interview
– What is your full name?
– Can I see your ID?
– Where are you from?
– Do you work or study?
– Do you like to visit the countryside? Why?
– When do you visit it?
– What do you usually do there?
– Lets talk about colours.
– What colours do you like?
– Which is your favorite?
– Why do you like this particular colour?
Cue Card
Talk about a famous person whom you would like to meet in person. Please say
– Who is this person?
– What is he/she famous for?
– Why do you want to meet him/her?
Discussion
– Do you agree that media focuses more on bad news rather than bringing good news to people?
– Should media focus more on domestic or international news, in your opinion?
– Do you like the fact that media gives importance to the news about famous personalities, politicians and so on? Why?
Related posts:

IELTS-Blog